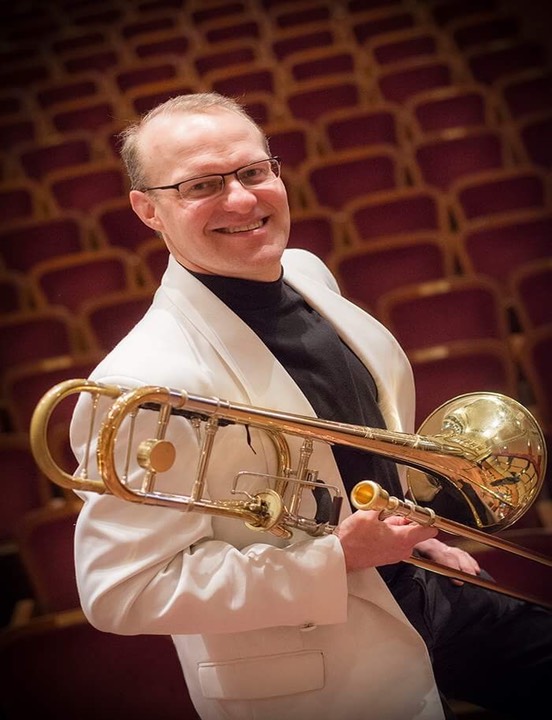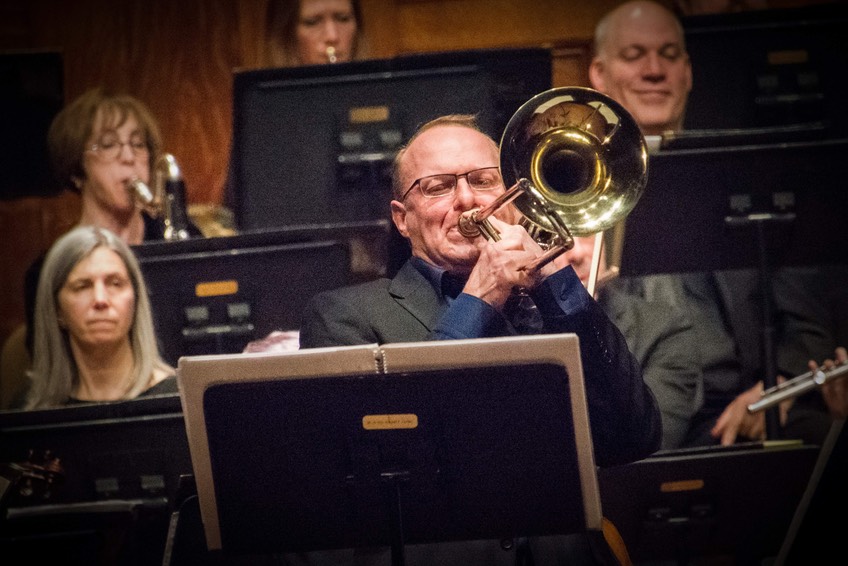 The Springfield Symphony Orchestra and Maestro Kevin Rhodes led an enthusiastic audience of 1,287 on a stairway to the stars Saturday evening.
The brightest star of the show was SSO Principal Trombonist Brian Diehl, soloist in Takashi Yoshimatsu's "Orion Machine" Concerto for Trombone and Orchestra. Written in 1993 for the principal trombonist of the Japan Philharmonic Symphony Orchestra, Orion Machine truly takes the trombone where no trombonist has gone before!
The concerto's five movements, played without pause, take their titles from the stars in the constellation Orion, Betelgeuse, Bellatrix, Trapezium, Saiph, and Rigel.
Armed with prodigious technique, a fertile imagination, and more mutes than a music store, Diehl took his listeners on a sonic journey none of them will soon forget. In the opening movement, Diehl delivered warm, lyrical lines soaring through Messiaen-like sound clouds and spanning a vast register not even hinted at in orchestrations texts - from F at the top of the treble staff to G and D below the bass staff - the province of tubas, contrabassoons, and Russian basses.
The second movement's Latin-rock groove tested the mettle of the entire orchestra, demanding the utmost rhythmic precision in music that bridged the gap between an Elmer Bernstein film score and Leonard Bernstein's Mambo from West Side Story. Diehl negotiated impossibly angular melodies up and down the compass of his instrument with apparent ease.
This joyous cacophony climaxed in a threnody of strings which dissolved into a dainty lacework of piano and harp shot through with hushed woodwind birdsongs, a texture that ultimately coalesced into a melancholy waltz.
The fourth movement contained the part of the piece that Maestro Rhodes said in a recent interview that he most looked forward to - the extended solo cadenza. Diehl himself described his intention in creating the cadenza as follows: "...it will become things that are recognizable - I'm thinking of it kind of like the soundtrack of earth that was aboard the Viking Mars lander - music that you'd want to share with an alien society."
It was all of that. Shaped by Diehl's wit and fantasy, full of sounds molded by an array of straight mutes, bucket mutes, plunger mutes, and enhanced by his reflective pas de deux with a derby mute mounted on a nearby microphone stand, the cadenza proved by turns remarkable, inscrutable, and humorous. Diehl produced actual chord progressions from the trombone, traded wahs with his section-mates, riffed on the Kodaly theme from Close Encounters, and eventually emerged into the finale, a galaxy of orchestral color - a harmonic starscape of stacked thirds.
An immediate standing ovation greeted Diehl's stellar performance, and tuba player Stephen Perry met him at the podium with a bottle of champagne, while his section-mates stood and hailed him with a trombone fanfare.
Bright as Diehl shone on Saturday, other stars shared the SSO firmament Saturday as well. Glimmering among them were principal clarinetist Christopher Cullen, whose solos in Offenbach's Orpheus in the Underworld Overture and Tchaikovsky's Symphony No. 5 were superb. Principal cellist Aristides Rivas, principal oboe Nancy Dimock, and Concertmaster Masako Yanagita also earned bows for excellent solo work.
Maestro Rhodes led a thunderous performance of Tchaikovsky's Fifth, exploring diametric extremes of ecstasy and despair, and surging between them with true Russian extroversion, his heart firmly stitched on his sleeve. The somber motto that runs through the piece took on a myriad of characters under Rhodes' direction, from gray, hushed melancholy to apocalyptic, brassy peril.
Rhodes was able to unleash his players and encourage them to play hugely, without ever compromising the balance of the overall orchestral sound. This equilibrium is incredibly difficult to achieve, but it represents the composer's ideal image of his work to the very best advantage.
From the outer rim of the galaxy to the heart of repertoire chestnuts, the Springfield Symphony once again showed the incredible capabilities of its musicians and its conductor to make great music on a world-class scale.